The Fallbrook FireSafe Council (FFSC) is a non-profit 501(c)3 organization working within a broad coalition of private and public sector organizations and people to provide education and information that fosters fire safety preparedness within the Fallbrook, Bonsall, DeLuz and Rainbow region.
The Fire Safe Council empowers communities to become fire safe.
Established in November 2002, nine months after this area's Gavilian Fire, the FFSC focuses on three key Wildland Urban Interface Fire Disaster areas: Prevention, Preparedness and Recovery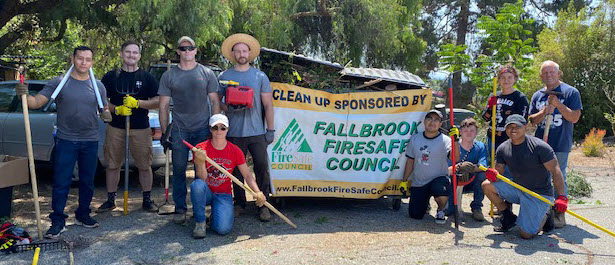 Here's a volunteer work crew that trimmed back overgrown trees on the property of an 80-year-old woman in home hospice care in Fallbrook.
 The workday was on a property on Robby Way that the Fire Marshall had declared a fire hazard to the immediate property as well as neighboring properties due to tree branches extending over the house, accumulation of dead brush around house and dead bushes adjacent to the house. A volunteer team of Marines from Camp Pendleton assisted in the removal of over 10 cubic yards of material from the areas around and near the house which helped to improve the property from potential damage from a wildfire situation.